Quality of Care
School-Based Medical Home: Making the Grade in Scranton
March 7, 2019 · NCQA Communications
Have you been inside a school recently? There's a new calculus the curriculum. Many school systems—many communities—address far more than their students' instructional needs. The bet is, if schools address distractions—poverty, hunger and poor health—students will improve academic performance.
So, schools increasingly see an on-campus health clinic as the go-to tool in this effort. We at NCQA are always for increased access to care, so kudos to those communities bringing care closer. But because these clinics serve as primary care for some, we prescribe patient-centered care.
Last year, NCQA introduced our School-Based Medical Home (SBMH) Recognition program as a special invitation for school clinics to join the patient-centered "neighborhood" of care. It's similar to our Patient-Centered Medical Home (PCMH) program for primary care practices. It emphasizes effective coordination, communication, and team-based care.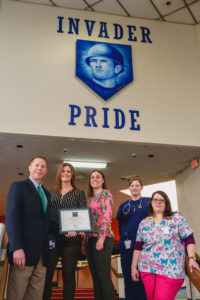 We want to welcome these clinics to the neighborhood because of who they serve. There are more than 2,300 school-based health centers in the country that provide care to children and adolescents. Most of these centers are in low-income communities, their students among the most needy for access to care.
The Wright Center: A leader in Quality
The Wright Center for Community Health, a non-profit provider of primary care services, champions patient-centered care. Many of its clinics have been PCMH Recognized for years. So when The Wright Center teamed up with the Scranton, PA school system to develop in-school clinics, in-school Recognition just made sense.
"This recognition has helped our organization identify areas for improvement in safety and quality and develop plans for advancement," said Kellen Kraky, Manager of Youth Services, The Wright Center. "We're confident that SBMH recognition will provide the same opportunities for our school-based medical home."
Now, The Wright Center's passed the challenge. It is first nationwide to earn SBMH Recognition.
"The process of recognition allowed us to take a step back from our day to day practices and analyze the data associated with our work on a more objective scale," Kraky noted. "We were able to focus on areas identified for improvements and really enhance the care provided in these areas. The opportunities for growth and improvement are invaluable to our patient population."
Invaluable, it seems, to patients' learning.
Learn more about the Wright Center's SBMH journey and how your organization can be recognized!