Delivering Better Care
How Do We Know PCSP Works?
December 17, 2019 · Jazmyne Carter
Good news everyone. We're making progress.
For primary care, the Patient-Centered Medical Home (PCMH) initiative serves as a layout to direct team-based, whole-person-oriented care. —But what about specialty care?
As you may know, NCQA expanded upon PCMH for primary care with the Patient-Centered Specialty Practice (PCSP) to address the unique care provided by specialists.
And our friends at Providence Heart Clinic (PHC) report that it really worked for them.
About Providence Health Clinic
PHC is a multisite integrated medical group that provides cardiovascular care in Oregon and southwest Washington. It houses 32 advanced practice providers and 61 cardiovascular specialty physicians, including general cardiologists, interventional cardiologists, heart failure cardiologists, electrophysiologists, cardiovascular and vascular surgeons. Providers deliver cardiovascular care at eight acute care hospitals in Oregon and 21 outpatient clinic sites. There are an estimated 64,000 total outpatient visits yearly. So, it's a big team.
In 2014, PHC became one of the first NCQA-Recognized PCSP cardiology clinics in the United States. By three years later, all 15 of its eligible sites earned NCQA recognition.
The PCSP Project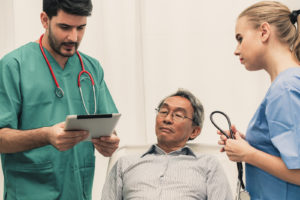 As part of this commitment, PHC developed their own  project to demonstrate the value of PCSP. The patient-centered specialty practice project focused on three areas related to PCSP standards—access, care coordination and patient satisfaction.
Access
Patients need care. And to get the care they need; it must be accessible.
Initially there was no standard for reporting or scheduling for routine and urgent appointments. Through this project, PHC reworked the provider scheduling template based on referral needs with new and same-day patient time slots, extended office hours, and standardized scheduled time for each patient visit. Additionally, PHC implemented electronic non-visit consultations (e-consult) and a nursing advice triage line. These simple, yet effective operational changes, improved patient access. The average number of new patient visits per physician available clinic hour increased 10.7% from 2013-2014 and continued to increase through 2016.
Care Coordination
Before PCSP, providers had their own way of taking notes for consultations, follow-ups and test results. PHC established a more standardized process of notetaking. Workflow and timeline requirements were refined around referral receipt, patient contact, appointment scheduling, consultation, and closing of the referral loop.
Closing the referral loop is important because specialty physicians need notes from primary care providers in a timely fashion to best help the patient. PHC set a goal of two workdays to close the referral loop. The goal was met 79% of time in 2013 and 2016.
Patient Satisfaction
At minimum, patient satisfaction surveys have always been conducted. But the data wasn't analyzed, and workflow had not been altered to fit patient feedback. During the PCSP project, PHC hosted training sessions for staff around patient greeting, interaction, telephone etiquette, and more. Patient satisfaction was measured using the Press Ganey Clinician and Group Consumer Assessment of Healthcare Providers and Systems (CG-CAHPS) survey. From 2013-2016, CG-CAHPS Specialty Comparison scores increased from 80.4% to 92.3%. Patients seeing their provider within 15 minutes of the appointment improved from 88.8% to 93.8% and overall doctor rating increased from 83% to 85.6%.
That was a lot to digest.
Still, it's inspiring. PHC's work demonstrates that PCSP does improve patient access, care coordination and patient satisfaction. Its also helps workflow among providers and specialists. That's why you should read more about this project and share. It works, and every practice should see the exciting results.