Health Plan Accreditation
Health Plan Accreditation 2020: Scoring
August 27, 2019 · Jazmyne Carter
Who's keeping score?
No worries, it's way easier now.
Simplify Scoring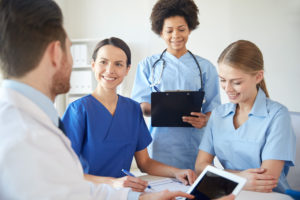 There use to be confusion around which score matters. Is it the Health Plan Ratings score or the Accreditation score? Which one indicates how well plans perform?
We have a solution.
Remember how Health Plan Ratings and Accreditation will align in Health Plan Accreditation (HPA) 2020? This alignment will improve consistency between Health Plan Ratings and Accreditation.
How Standards are Scored in HPA 2020
Simple is best.
For each standards category, plans will be evaluated on the factors satisfied in each applicable element.  Each element and will earn either Met, Partially Met or Not Met. To make it even simpler, elements will be worth 1 or 2 points.
Met = Earns ALL applicable points.
Partially Met = Earns HALF of applicable points.
Not Met = Earns NO points.
Now that plans either receive all, half or no points for each element, scoring is easier (0, 0.5, 1, 2).
The total number of points are added in each category and the results will indicate accreditation status:
80%+ of applicable points- Accreditation Earned
55%-80% of applicable points- Accreditation Earned with Provisional status
0%-54% of applicable points- Accreditation Denied
Product Line Level Scoring
Seeking Accreditation for multiple product lines?
In the past, plans would submit evidence by product line but receive a cumulative score across product lines. Now, NCQA will report scores for standards by product line.
What does this mean?
There will be more focus on areas that need improvement.
Plans will show evidence or samples by product line for some select elements. These elements will have a product-line specific score instead of an average score.
Element scores will be added for each standards category to produce a score specific to each product line.
Corrective action plans will be aimed to product lines with less than satisfactory scores.
Learn More
We know it's a lot to digest.
That's why you'll want to take a listen to our introduction to HPA 2020 webinar. On August 21 at 2:30 PM EDT, NCQA's Assistant Vice President for Product Strategy and Development, Raena Akin-Deko discussed new 2020 standards, scoring updates, new and retired elements, and more.
Watch here.
Lastly, feel free to purchase the (HPA) 2020 Standards and Guidelines here.