Annual Conference
Apervita: A Report from Quality Congress
October 31, 2019 · Jazmyne Carter
Quality is in the eye of the beholder.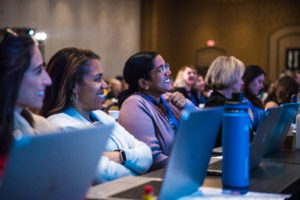 NCQA's Health care Quality Congress is an experience that no health care professional should miss. Quality improvement health plan executives, doctors, nurses and countless others attended the congress to talk all things HEDIS, Health Plan Accreditation (HPA) and quality improvement.
It was amazing —but don't just take our word for it.
Read what Kevin Weinstein from Apervita wrote on the company's blog:
3 Takeaways from NCQA's Healthcare Quality Congress
Late last week, I had the opportunity to spend three very informative days at the National Committee for Quality Assurance (NCQA) Healthcare Quality Congress (HQC) with a variety of industry stakeholders, thought leaders and policy makers. I left with three exciting and inescapable takeaways for our industry.
First, the fundamental transformation of our healthcare payment and delivery system from a fee-for-service to value-based system continues to be an expressed goal for all stakeholders. Providers seek the financial ability and operational freedom to impact the health of their patients, which only comes when they have more control, not less. Payers seek economic certainty for their members, and at the same time look to create accountable provider networks for adhering to evidence-based medicine. Policy makers and consumer advocates seek a cost and quality balance more consistent with our goals and abilities as a country.
However, even as all aspects of the industry sound the relentless drumbeat of value-based healthcare, the HQC highlighted one stubborn reality: much of the informational infrastructure and business processes currently in place were designed to support fee-for-service medicine. This incongruous reality is putting pressure on quality professionals, standards bodies and policy makers to create new tools and processes in the transition to value-based healthcare.
The result of that market demand takes me to my second key takeaway from the HQC conference: Ready or not, digital measures are coming.
Like many healthcare quality measurement frameworks, NCQA's HEDIS® was created in the mid-1990s following the passage of HIPAA. Since then, health plans have used this methodology to report on the quality of care their members receive at the hands of their plan and contracted providers. Although the process has become a little less manual as information is increasingly digital with the rise of electronic claims processing and electronic health records, the process today still requires redundant, idiosyncratic, annual hard coding of HEDIS measures and manual chart abstractions to complete the measurement process. As a result, the annual reporting process remains expensive, time consuming and outdated. The current process lags behind actual performance to the extent that plans and providers are always "chasing last year's results" when trying to use HEDIS to improve quality.
With value-based healthcare aligning quality outcomes with financial performance, NCQA and others recognized the need to more fully harness the potential of electronic health information to provide a more robust set of measures for health plan quality. The result is the availability of fully digital quality measures that no longer require each plan to hard code measures every year.
In July of this year, NCQA released 11 fully digital versions of its ECDS quality measures. ECDS measures are similar to HEDIS measures, yet allow for a broader range of input data to be used in quality calculations. In October of this year, NCQA will release 8 fully digital HEDIS measures. And in July of 2021, NCQA will publicly report the results of a digital measure for the first time. Given that the Centers for Medicare and Medicaid have already released more than 50 of their own fully digital measures for the 2020 reporting period called Electronic Clinical Quality Measures (eCQMs), the inescapable conclusion is that plans, providers and all stakeholders need to begin planning for how to handle the challenges and opportunities of digital measures with some urgency. The world won't change overnight, but it only took a few years for the digital music replacement for compact discs due to its many advantages. Similarly, digital measures will be the industry standard a lot faster than most people realize. Plans without sufficient knowledge of and planning for digital measures risk significant financial and reputational disruption, as digital measures become the industry standard for determining quality, and thus reimbursement.
Lastly, and related to both of my previous observations, is that the link between quality measurement and quality improvement is strengthening and accelerating. Because reimbursement is tied ever more closely to quality in a value-based system, there is pressure to impact quality as rapidly and pointedly as possible. Quality improvement efforts by plans and providers are requiring timely and more exact measurement so they can more effectively target their improvement efforts. While broad-based global improvement efforts such as patient falls in a hospital or immunizations among vulnerable populations remain important and impactful, increasingly, healthcare organizations want to disaggregate performance and understand at the individual patient, provider, service line, location, etc., why variations in quality exist and what they can do to impact it. Digital quality measurement allows healthcare stakeholders to do just that.
By Kevin Weinstein, Chief Growth Officer, Apervita
Apervita, we couldn't have said it better ourselves. There was a ton of information and you hit the nail on the head. Thanks again for attending and we look forward to seeing you in 2020. #HQC2020 will be in Dallas, Texas on September 23-26. HEDIS® is a registered trademark of the National Committee for Quality Assurance (NCQA).