25 Years Of Quality
2005: NCQA Releases the First "America's Best Health Plans" Study
August 3, 2015 · NCQA
25 for 25: A series of 25 blog posts marking NCQA's 25th anniversary. As part of our anniversary celebrations, NCQA will post a series of 25 blog posts highlighting milestones in our 25 years of improving health care quality.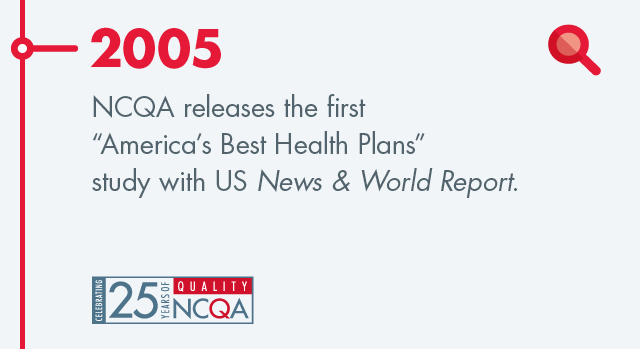 For most of NCQA's early history, health plan report cards were a local or regional affair, attracting little national attention. That changed in 2005. In October of that year NCQA partnered with U.S. News and World Report to develop the magazine's first annual "America's Best Health Plans" issue, which featured a cover story about the rankings and health care quality, two pages listing ranked health plans, and three related articles. At the time, U.S. News and World Report's circulation was over two million and the weekly was the go-to source for "America's Best" lists spanning everything from hospitals to colleges to mutual funds to places to retire.
The "Best Health Plans" cover story wasn't just a media success for NCQA, it also helped advance the quality agenda. One of the articles related to the rankings identified plans that decided not to publicly report their quality results. This was almost certainly the first time health plans had been singled out on a national stage for choosing not to be accountable. It made a difference. Over the next few years, most of the plans decided to opt in to public reporting, bringing more transparency to the insurance marketplace.
U.S. News was NCQA's publishing partner for health plan rankings for five years. In 2010, Consumer Reports become the rankings' annual publisher. By 2015, more Americans had learned about the quality of health plans through NCQA's Health Insurance Plan Rankings than from any other project or series in the quality world.
A cornerstone of NCQA's 25th anniversary year will include a look ahead through the eyes of tomorrow's leaders. This November 9, NCQA will convene Quality Talks: Inspiring the Future of American Health Care, a "TED-style" symposium held at the Knight Conference Center at the Newseum in Washington, DC. bringing together hundreds of health care and public policy professionals, including government regulators, thought leaders and Congressional staff.