25 Years Of Quality
2003: NCQA Launches Heart/Stroke Recognition Program with AHA/ASA
August 28, 2015 · NCQA
25 for 25: A series of 25 blog posts marking NCQA's 25th anniversary. As part of our anniversary celebrations, NCQA will post a series of 25 blog posts highlighting milestones in our 25 years of improving health care quality.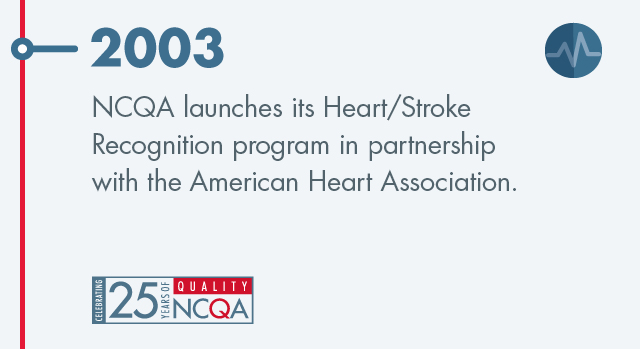 Following the successful launch of the Diabetes Provider Recognition Program in 2002, NCQA sought to develop recognition programs—which evaluate the quality of medical providers and physician practices—for other important illnesses.  Heart disease and stroke, the nation's #1 and #3 killers respectively, were obvious choices. Working with the American Heart Association/American Stroke Association (AHA/ASA), NCQA launched a Heart/Stroke Recognition Program in August 2003.
As with the Diabetes Recognition program, the aim of the Heart/Stroke program was twofold: to help patients find physicians who could help them manage their illnesses, and to ensure that those providers delivered top notch care.  AHA/ASA had already developed exacting guidelines for treating patients with heart disease or stroke. To earn NCQA Recognition, providers had to show that they followed those guidelines.
Standards covered important aspects of care, such as controlling patients' blood pressure and cholesterol, using aspirin to prevent blood clots and advising patients who smoke to quit. At the time, collecting and reporting on performance at the individual physician level was rare.  The Heart/Stroke program helped introduce providers to the habit of measuring quality.
The Provider Recognition program concept has proven itself several times over since the early days of the Diabetes and Heart/Stroke programs.  Today, more than 53,000 clinicians hold some form of NCQA Recognition.
A cornerstone of NCQA's 25th anniversary year will include a look ahead through the eyes of tomorrow's leaders. This November 9, NCQA will convene Quality Talks: Inspiring the Future of American Health Care, a "TED-style" symposium held at the Knight Conference Center at the Newseum in Washington, DC. bringing together hundreds of health care and public policy professionals, including government regulators, thought leaders and Congressional staff.