Quality of Care
U.S. Surgeon General Vivek Murthy Lists Upcoming Priorities
April 14, 2016 · Amy Maciejowski
Dr. Vivek H. Murthy, United States Surgeon General, delivered the keynote speech at the Association of Health Care Journalists' conference this past weekend.

Vivek told the Cleveland crowd of reporters his priority is to increase access and build a foundation of health in the United States. "Health is a barrier for some people," says Dr. Murthy, "but it shouldn't be. It should be an opportunity." Vivek's philosophy for creating the opportunity? Formulate a culture of prevention. Help people want to be healthy. Prevention includes physical health, nutrition and emotional health.
Right now, Dr. Murthy explained, we spend more money on treatment than on prevention.
Fighting the Opioid Crisis, Changing the Conversation
Dr. Murthy's speech touched on one of the bigger health crises facing our nation: opioid abuse. He believes his most time-sensitive contribution during his tenure will be changing how the United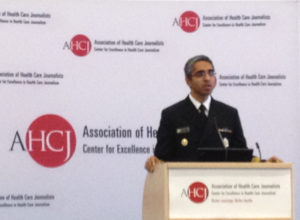 States handles this crisis. At issue is how our country stigmatizes addiction. Dr. Murphy called for changing how we talk about opioid abuse so we can alter opinions.
"We need to help the country see addiction not as a moral failing, but as a chronic condition." Dr. Murphy continued, "Addiction is nearly impossible to solve alone. We need to provide compassion. For individuals and for the country."
Murthy detailed a five-point plan that focuses on educating providers and the public. He wants people to understand the risks of addiction. He wants providers to educate patients on how to dispose of opioids so friends/family members cannot use them. And he wants to educate doctors on the best practices for writing prescriptions.
Through a "call to action" this spring, Dr. Murthy plans to mobilize roughly 1.1 million doctors, nurses and dentists who prescribe opioids. He wants to blend prevention and action, to persuade providers to identify patients at risk of opioid addiction and connect them with treatment.
This summer, Dr. Murthy will also release the world's first Surgeon General's report on substance abuse. The report will focus on the proven ways to address prevention, education and treatment.
Prevention Includes Emotional Health: Value-Based Payment is a Good Start
During a Q&A session after his address, Dr. Murthy said he sees behavioral health as a type of prevention against addiction. He hopes the move from a fee-for-service to a value-based payment system will result in better integration of behavioral health with primary care.
"It's the right and [the] cost-effective thing to do," said Dr. Murthy. "The shift in payment will help this integration."