COVID-19
The Results are in: Telehealth Use in PCMH Practices
July 31, 2020 · Amy Tennant
In March, the Centers for Medicaid and Medicare (CMS) announced temporary expansions to Medicare telehealth coverage that expanded the scope of healthcare services beneficiaries could receive. The lifted restrictions and the closing of offices spaces due to the COVID public health emergency necessitated a shift from in-person to telehealth care.  
A few weeks ago, NCQA surveyed Patient-Centered Medical Home (PCMH) practices to assess how COVID impacted the adoption of telehealth. The survey—which was completed by about 1,200 people from PCMH practices—found that prior to COVID, 59% of practices reported using telehealth. Since the public health emergency began, 96% stated that they increased their use of telehealth.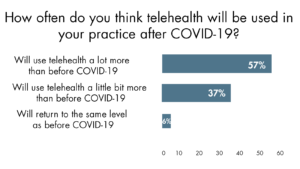 CMS found similar surges in the number of Medicare beneficiaries receiving telemedicine services. According to Seema Verma, administrator of CMS, in a recent Health Affairs Blog, before the public health emergency, approximately 13,000 beneficiaries in fee-for-service (FFS) Medicare received telemedicine in a week. In the last week of April, nearly 1.7 million beneficiaries received telehealth services. When analyzing Medicare FFS claims data, CMS found that that beneficiaries are getting care at similar rates across demographics with no significant differences by race or ethnicity among beneficiaries.  
While the expansions to telehealth coverage are currently temporary, CMS has acknowledged that some of the changes may become permanent.  This news is encouraging as we found that 57% of people surveyed stated that they will use telehealth after the public health emergency ends. Most PCMH practices surveyed plan to increase the use of telehealth capabilities within their existing platforms or re-purpose existing capabilities to take advantage of policy changes, but 16% plan to invest in new telehealth platforms with more capabilities.  
COVID-19 is a catalyst for telehealth adoption both in terms of policy and patient behavior change, and NCQA, along with the Alliance for Connected Care and the American Telemedicine Association, have convened a Taskforce on Telehealth Policy to develop recommendations for telehealth reimbursement and standards for ensuring high–quality, safe and accessible care while maintaining program integrity. We know that telehealth is here to stay. Our mission is to figure out how to maximize the benefits of telehealth services while supporting a high standard of care across the healthcare system.  
Will you use telehealth in your practice after the public health emergency ends? 
What investments in telehealth do you anticipate making in the next year or two? 
Comment below.