Quality of Care
Sharing the Patient-Centered Playbook: A Program for Specialty Practices
June 8, 2017 · Amy Tennant
Primary care is the foundation of patient care, but it is a just one part of a complex medical system. Specialty practices act as medical "neighbors" to primary care practices and patient-centered medical homes (PCMH). NCQA's Patient-Centered Specialty Practice (PCSP) Recognition program encourages the delivery of high-quality care by adopting processes that improve care coordination, timely referrals, access and quality improvement activities. Without robust referral processes and care coordination, fragmented care can lead to pain, medical errors and wasteful spending.
Sharing the Patient-Centered Playbook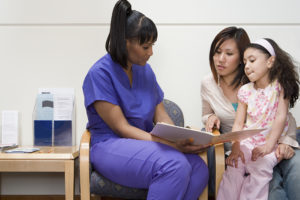 NCQA is updating its PCSP Recognition program and seeks the public's feedback on the new format and enhancements. New standards offer more flexibility, reduce documentation and facilitate continuous improvement. They reflect the needs and workflow of specialty practices by emphasizing tasks that promote high-value referrals and care coordination with primary care and other specialists.
The updated program departs from the current "standard-element-factor" arrangement and organizes standards into Concept-Competency-Core/Elective Criteria. Criteria are specific activities the practice must perform to earn PCSP recognition:
CORE CRITERIA. Practices must meet these to earn PCSP Recognition. They demonstrate that the practice is functioning as a medical neighbor and delivers patient-centered care.
ELECTIVE CRITERIA: Practices can tailor their elective activities to the community and populations they serve. New electives include criteria on social determinants of health, value-based contracting, assessing risk status and involving patients and families in quality improvement activities.
Specialists play a vital role in the medical neighborhood and share patients with a wide range of primary care practices. To deliver truly safe, high-quality patient-centered care, specialty practices and others in the medical community should be using the same patient-centered playbook that emphasizes coordination, access and communication.
How to Participate in Public Comment:
Read and provide detailed, actionable comments to the proposed standards online: www.ncqa.org/publiccomment.
The Public Comment period begins at 9:00 a.m. ET on June 7 and ends at 11:59 p.m. ET on July 7. Updated products will be released in spring 2018.