Electronic Health Records
Research Reads: Improving Immunization Rates Through Technology
September 5, 2018 · Avani Bharucha
Vaccinations can be a pretty controversial topic. While some may be focused on the effectiveness on vaccines, our focus is more on how we keep track of them. Even though people need immunizations to prevent serious diseases, there are gaps in vaccination coverage levels for children, adolescents and adults, and some populations are less likely to receive vaccines than others—for example, the 2015 National Health Interview Survey found that White adults were more likely to have received the influenza vaccine than adults from other ethnic racial groups.
NCQA's Healhcare Effectiveness Data and Information Set (HEDIS®) includes several measures assessing health plan performance  vaccinating members according to guideline recommendations. To improve vaccine coverage, in July we added two measures that assess whether adults and pregnant women have received recommended vaccines: Adult Immunization Status and Prenatal Immunization Status. The measures are based on recommendations from the Advisory Committee on Immunization Practices (ACIP), which develops national guidelines for vaccination.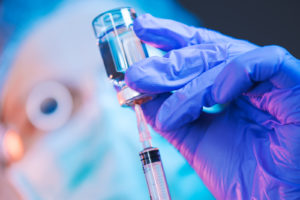 How We Did It
To report these measures, health plans use data from electronic clinical data systems (ECDS), which can include claims data, exchanges and registries, case management systems and electronic health records.
This reporting method moves measurement away from limiting or burdensome processes and may be particularly suitable for immunization measures, given the existence of immunization registries and availability of vaccinations outside the physician office.
Before adding the measures to HEDIS, we tested the feasibility of health plans reporting measures using electronic clinical data. Commercial, Medicaid and Medicare plans provided data for the adult measure; commercial and Medicaid plans provided data for the prenatal measure.
For all plans, NCQA looked at:
Performance and composite rates for recommended vaccines.
The proportion of immunizations collected from each data source.
For both measures, performance rates were higher among plans that supplemented claims data with data from other electronic sources. For the adult measure, performance rates were higher for Medicare plans than for commercial or Medicaid plans.
We found that performance on both measures was consistent with literature and supports the need for quality measures. Clinical data can always be improved, but taking advantage of technology is key to tracking immunization history, keeping people up to date on vaccines and reporting quality measures. When we have better data, it's easier to see the big picture. Perhaps with this, we will see a noticeable difference in these outcomes.