Inside Health Care
Inside Health Care Episode #010: Liz Salmi, OpenNotes
October 10, 2018 · Matt Brock
Quality Talks 2018 sneaked up on us quickly—it's just a few weeks away!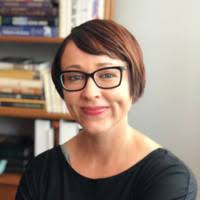 And here's a "sneak" peek at one of our electrifying Quality Talks speakers, Liz Salmi. Unlike a lot of our speakers, who knew right away they wanted to be involved in medicine, Liz followed a different path. You could say that getting sick sparked her interest in health care: She has been living with brain cancer for 10 years.
Straight out of high school, Liz went on cross-country as a drummer in a punk rock band. And after the tour, she channeled her creativity into a career in graphic design. But at 29, Liz's life was upended when she was diagnosed with a brain tumor.
As a coping mechanism, Liz drew on her creativity and began writing a blog—The Liz Army—that walked readers through her experiences as a cancer patient. When her health insurance required a change in health systems, her doctors said goodbye and handed her a DVD of her medical records. They totaled 4,800 pages.
Liz's initial reaction? "Oh my gosh, what is this?" Then she began reading. That was the start of a new relationship with OpenNotes, and Liz's mission to bridge what she calls a "knowledge gap" between physicians and patients.
Open Notes lets patients read the notes a doctor makes during a visit.
In the Open Notes trial, researchers followed 105 primary care doctors who agreed to share notes with about 13,000 patients. At the end of the trial, patients showed a better understanding of their condition and reported that they felt more comfortable talking to their doctors. The patients were asked if they wanted to opt out of Open Notes. None did.
Liz says the Open Notes approach provides transparency (one of NCQA's favorite words!) in the health care system. If patients can read their doctors' notes, they can notice errors and get them corrected. This benefits the patient, the doctor—and health care.
Thanks to Open Notes, 22 million patients have access to their doctors' notes. Amazing, right? Yes, but there's a way to go: 22 million people is only 6% of the American population. Traditionally, most doctors and health care systems don't share notes—and many patients don't even know they exist.
Watch More In-Depth Interviews With Our Speakers
Want to learn more about Liz Salmi? Listen to NCQA's Director of Communications, Matt Brock, interview her in our Inside Health Care podcast. You'll find it in the Itunes app store and on Google Play. We think you'll find her as fascinating as we do. Let us know what you think!
Want to Join Us at Quality Talks?
Tickets to Quality Talks are going fast. Don't miss out on your chance to hear unique and influential speakers like Liz Salmi. Register now.