25 Years Of Quality
Peggy O'Kane: "Most Influential" Nominee
May 31, 2018 · Matt Brock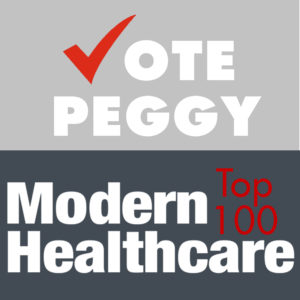 Our quality leader, our own president, Peggy O'Kane, is among the many people nominated for Modern Healthcare's 100 Most Influential People in Healthcare. In so many ways, though, she stands out from the crowd. Even though we advocate for a never-ending pursuit of a better health care system—a different health care system–Peggy's mark on the outcome will be immeasurable (and we really believe in measurement).
How to mark your ballot.
So, first let's help you with some guidance on how to support Peggy with your vote.  You will find her name—Margaret O'Kane—about one fourth of the way down the list on page two of the ballot. Modern Healthcare listed the nominations in alphabetical order, and O'Kane is, of course, in the middle of the alphabet. So, make sure to click through to the second page to find her name
Now, Why Peggy?
It boils down to our vision here at NCQA and Peggy's leadership in transforming the vision into reality. Our vision: To transform health care quality through measurement, transparency and accountability.
Three decades ago, that vision seemed perhaps a bit lofty. Now, not so much. That vision, Peggy's vision, has driven improvements in everything from measuring cholesterol medication adherence to validating that health care data is handled appropriately. Peggy's been part of it all—more than 25 years of improving the healthcare system by encouraging measurement, by holding those who deliver care accountable and by sharing all the information and best practices we can to help the system form an improvement strategy.
Peggy will tell you—as she has told countless people before—there is still work to do. Lots of it.
She continues to look at ways to build on this legacy. She and others here at NCQA want to improve quality performance data collection and the reliability of the data. Peggy wants to explore even more ways to take advantage of the electronic health care systems across the country that each hold their own treasury of valuable insights.
Peggy advocates for care that measures its performance by patient goals. She's a leading voice for empathy and trust as components of care. She also continues to push to measure the influence of factors not traditionally defined as part of the health care system—economic and social.
There are likely drastic developments ahead in all these areas. Drastic improvements, we hope. And if Peggy O'Kane has anything to say about it, she and NCQA will be at the head of the crowd, pushing for better care, again.
So, Peggy clearly meets the standard of "most influential", for the past and the future. But wait, there's more.
A Vote for Peggy is a Vote for….
A vote for Peggy is a vote for preserving the quality of health care. It's a vote for measurement to set benchmarks for better. It's a vote for transparency—sharing the methodology and results of measurement to collaborate for better. It's a vote for accountability to assure that practices and health plans meet the needs of people and continuously pursue better.
Quite an agenda. But it's all possible. Just ask Peggy O'Kane.