Behavioral Health
PCMH Recognition: Boldly Striving to be "Distinctly Different"
February 17, 2020 · Emily Schmidt
There are ordinary dates in an organization's history which become memorable milestones, and Betty Housey says June 27, 2019 is one of those days.
Housey is the Clinical Director of Spectra Health, which has clinics in Grand Forks and Larimore North Dakota.  On that day in late June, Spectra Health earned NCQA Patient-Centered Medical Home (PCMH) Recognition with Behavioral Health Distinction. It's a long title which boils down, Housey says, to putting patients front and center and working to provide all the services they need under one roof.
Betty Housey calls it "redefining healthcare"—a one-stop shop integrating behavioral health that is already showing remarkable results for its 8000 patients from rural and urban northeast North Dakota. For example, Housey says if a farmer or migrant worker came in to be checked for high blood pressure, a behavioral health consultant could also talk to the patient about managing stress in a difficult agricultural economy and finding supportive resources.  Housey says, "At least 50 to 60 percent of our patients that come in for a primary care visit also benefit from meeting with someone from our behavioral health department. This may include traditional counseling, social work, or a more simple 'brief intervention' which includes a 10-15-minute appointment with behavioral health staff."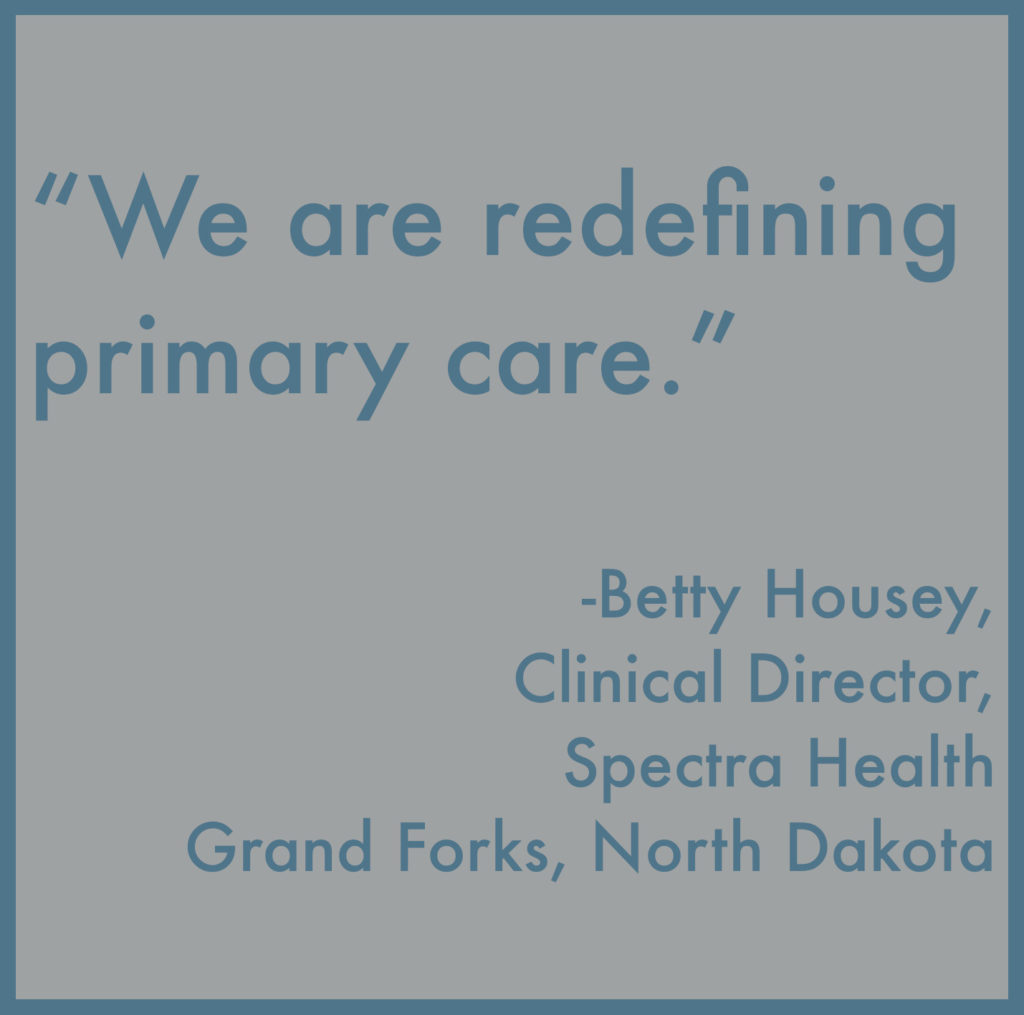 Housey says that improved access to health care pays off in big ways: people who may have traveled long distances to Spectra Health can accomplish several appointments in just one trip. For example, they may get critical support for behavioral health issues they hadn't considered or felt comfortable talking about on their own and they can get a wide variety of sometimes sensitive care in one place. Housey explains that when patients come through the door, others would have no way to know if they are there for primary care services, dental services, addiction services, or integrated behavioral health services. Any potential fear of stigma the patient may have can be replaced by more convenient and confidential access.
Betty Housey says earning PCMH Recognition with Behavioral Health Distinction took a lot of work from everyone at Spectra Health—between 12 to 18 months of focusing on ways to improve quality, patient experience, and staff experience.  Housey says she feels fortunate for the opportunity to see the work from two perspectives: as a clinical director, and as a nurse on the floor. She says working side by side with health care providers opened the door to finding better ways of improving processes for the patients. And, she says primary care providers now feel the integrated behavioral health component is so important that one of the first questions asked in the morning huddle is if BHI (Behavioral Health Integration) staff is on that day.,
Betty Housey says one example of PCMH Recognition with Behavioral Health Distinction shows why Spectra Health worked so hard to achieve it. One patient who came in was diagnosed with a form of cancer for which he began receiving treatment. But that was just the beginning.  The care team helped him find housing, helped him get insurance, helped him to stop smoking tobacco, and even helped get him a warm coat for the cold North Dakota winter. Many of the things, Housey said, were simple, but the team realized he couldn't focus on getting better if he was focused on so many other things.
The patient responded with the best compliment possible when he said, "You guys are something unique. There's nothing like you anywhere." Betty Housey says that's exactly what Spectra Health aims to be—Distinctly Different. While their mission to enhance life through compassionate, quality care existed before PCMH Recognition, the full integration of behavioral health is firmly rooted in Spectra Health's philosophy of care. Housey says, "We are proud of the comprehensive and respectful care we offer."