COVID-19
Parents and Pediatricians: COVID-19 Fears & Needed Vaccines
May 8, 2020 · Jazmyne Carter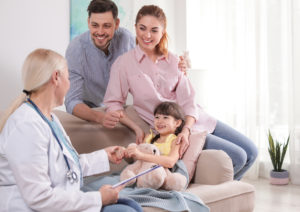 If it's not one thing it's another.
At one point, you would go to the doctor without a second thought. But now, you can't help to wonder "What if I catch the coronavirus?". Or even worse, "What if my child catches it?".
A parent's main objective is to do everything possible to love and protect their children. So, when you hear the growing number of COVID-19 cases, you worry about exposure. This is why some parents now avoid routine checkups with pediatricians. However, this could be planting the seed for another health crisis.
The Problem
According to the New York Times, immunizations are dropping at a dangerous rate. Millions of children are at risk for measles, whooping cough and other life-threatening yet preventable illnesses.
Dr. Sean T. O'Leary worries that the collateral damage of COVID-19 are outbreaks of vaccine-preventable diseases.
During the week of April 5, the administration of measles, mumps and rubella shots dropped by 50 percent (compared to the pre-virus benchmark). Other vaccines including diphtheria and whooping cough dropped by 42 percent; and HPV vaccines by 73 percent. Alarming.
And the issue is not just happening here. It's global. More than 24 countries have suspended their immunization programs.
Doctors, of course, do their best to encourage parents to stick to their child's vaccination schedules. They note that vaccine-preventable diseases can be more deadly to children than COVID-19. But parents are understandably focused on the threat at hand. The public charge has been to keep children at home, and to take them to the doctor only if necessary.
Possible Solutions
So how do we fix the problem?
Well one family physician, Dr. Gracey from  Barre Family Health Clinic, reached out to a new mom and asked would she like a house call? That afternoon, Dr. Gracey showed up at the family's doorstep, meticulously washed her hands, wiped her stethoscope and baby scale, and administered the shots.
Dr. Gracey's colleagues and other medical practices are exploring other ways to boost vaccine rates during the outbreak, including setting up a vaccination tent.
Recently, the pediatric ambulatory department at Boston Medical Center began sending vaccination mobile units into city neighborhoods. They also have stationed a dedicated van for vaccines and well-baby checkups in front of the hospital.
Some practices now schedule well-child visits exclusively in the morning and sick visits in the afternoon. Other practices have families wait in the car until an exam room is ready.
Dr. Jeanne M. Marconi's practice in Norwalk, Conn., has parents pull up, and briefly roll down a car window for the child to receive a shot by a masked, gowned healthcare worker.
Truly an in and out process.
NCQA and Vaccinations
Doctors are working tirelessly to calm parents' fears and keep up with the care each child needs. NCQA is always glad to hear about health care innovation. These health care professionals saw an issue arising and acted quickly.
Bottom line, vaccines save lives by helping to prevent the spread of these diseases. We have measures around childhood immunization status and immunizations for adolescents because it matters.
Parents, talk to your child's pediatrician about your concerns. Physicians, recognize the parent's concern and do your best to be flexible.
COVID-19 is an issue all by itself. Let's not add to the problem. Instead, let's work together to get children the vaccines they need.