Quality of Care
Oncology Medical Home Pilot Sites Earn NCQA Recognition
June 7, 2017 · Karen Proffitt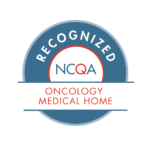 Seven sites became the first in the country to earn NCQA Oncology Medical Home Recognition. These sites demonstrated excellence in patient-centered oncology care and provided expert feedback in helping NCQA develop the Oncology Medical Home Recognition program, which is based on the patient-centered medical home (PCMH) model:
New Mexico Oncology Hematology Consultants, LTD—New Mexico Cancer Center, Albuquerque, NM
Northwest Medical Specialties—Puyallup, WA
Oncology Consultants—Memorial City Office, Houston, TX
Northwest Oncology & Hematology—Rolling Meadows, IL
Dayton Physicians LLC—Governor's Place, Dayton, OH
Urology Cancer Center—Omaha, NE
New England Cancer Specialists—Scarborough, ME
Recent studies show that the oncology medical home model reduces fragmentation, improves patient health and reduces health care costs. It emphasizes team-based care, effective communication and coordination, and helps build relationships between patients and clinical care teams.
"NWMS has been involved in value based care projects for nearly five years, and our passion in this area has only increased during that time. Successfully implementing an oncology medical home model has improved the patient experience, increased clinic efficiency and bolstered the relationship with local and national payers alike," said Jeff Hunnicutt, Chief Operations Officer, Northwest Medical Specialties in Puyallup, WA.
Oncology Medical Home recognizes specialists who improve collaboration and health care delivery. It is built from NCQA's Patient-Centered Specialty Practice Recognition program, and includes oncology-specific elements designed to improve the care of patients with cancer.
NCQA collaborated with oncologists to develop Oncology Recognition, which demonstrates support for patients in all aspects of care—from treatment and managing symptoms to ancillary services, and even financial counseling. Oncology medical homes lead to higher quality care, lower costs and happier patients.
Learn more about Oncology Medical Home Recognition or request to speak to an NCQA representative about the program.