Health Insurance Plan Ratings
No Shave November – Don't Forget Colorectal Cancer Screenings
November 28, 2018 · NCQA Communications
We're counting down to the end of No-Shave November! This month is not just a competition to see who can grow the longest beard—No-Shave November was designed to bring cancer awareness. Money that is usually spent on grooming and haircuts is donated to cancer-research charities.
Remember that early detection is key to treating and preventing illnesses! Everyone should get annual check-ups and regular screenings.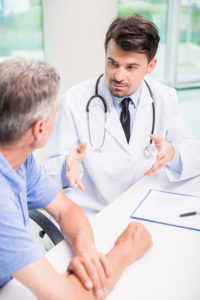 Colorectal Cancer Screenings
The American Cancer Society says, "Thanks to improvements in prevention, early detection, and treatment, more than a million people in the US count themselves as survivors of colon or rectum cancer." The NCQA HEDIS measure Colorectal Cancer Screening assesses adults 50–75 years of age who have a fecal occult blood test every year, or a flexible sigmoidoscopy every 5 years, or a colonoscopy every 10 years, or a computed tomography colonography every 5 years, or a stool DNA test every 3 years.
Check Out NCQA's Top-Rated Plans
For No-Shave November, NCQA is highlighting 5-star Health Plan Ratings for 2018–2019. NCQA rates more than 1,000 health insurance plans in all 50 states.
Health plans are rated from 0–5 on clinical quality, member satisfaction and Accreditation Survey results.
Don't see your plan listed here? See all NCQA Health Insurance Plan Ratings.
| | | |
| --- | --- | --- |
| Private/Commercial | Type | Rating |
| Group Health Cooperative of South Central Wisconsin | HMO | 5 |
| Kaiser Foundation Health Plan of the Mid-Atlantic States, Inc. (DC, MD, VA) | HMO | 5 |
| Medicare | | |
| Kaiser Foundation Health Plan, Inc. (HA) | HMO | 5 |
| Kaiser Foundation Health Plan of the Northwest, Inc. | HMO | 5 |
| Kaiser Foundation Health Plan of the Mid-Atlantic States, Inc. | HMO | 5 |
| Kaiser Foundation Health Plan Inc. (Southern CA) | HMO | 5 |
| Kaiser Foundation Health Plan, Inc. (Northern CA) | HMO | 5 |
| Group Health Plan, Inc. | HMO | 5 |
| Kaiser Foundation Health Plan of Colorado | HMO | 5 |
American Cancer Society. 2018. "Colorectal Cancer." https://www.cancer.org/cancer/colon-rectal-cancer.html