State & Federal Topics
NCQA PCMH in Action: Tennessee
April 27, 2018 · Amy Maciejowski
In 2013, Tennessee Medicaid (TennCare) launched the Health Care Innovation Initiative, which includes Patient-Centered Medical Home as one of its core strategies.
To further their initiative, Tennessee launched a PCMH Program in 2017 to address quality, access and cost. Practices are required to obtain and maintain NCQA PCMH Recognition to participate in the state's PCMH program.
Tennessee uses NCQA PCMH Recognition to give providers the tools to improve their practice.
Tennessee incentivizes their practices to achieve recognition in various ways:
Practice transformation support. Providers receive either financial or in-kind support to make the clinical and organizational changes required to perform as successful PCMHs.
Activity payment. Providers receive a risk-adjusted per member per month payment to cover the cost of support activities.
Outcomes payment. Providers receive financial rewards if they succeed in increasing both efficiency and quality.
As part of the PCMH program, practices can access their performance data and develop ways to improve the quality of care they provide.
By including NCQA's PCMH program, Tennessee allows the opportunity for providers throughout the state to improve care delivery for their Medicaid patients. (Additionally, the PCMH Program ties well with their state-wide Health Plan Accreditation requirement).
Currently, 67 organizations take part in the Tennessee PCMH program. You can read more about their program here.
NCQA PCMH Continues to Grow Among Public-Sector Initiatives
The PCMH model continues to be a leading model in improving care, and supported by a number of stakeholders. There are twenty-nine public sector PCMH Initiatives across 24 states that require or use NCQA PCMH Recognition.
Discover more about NCQA's work on PCMH here.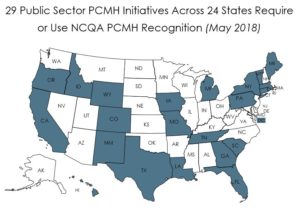 To learn more about NCQA PCMH and how it can support your state goals, please contact NCQA State Affairs at  publicpolicy@ncqa.org or click here.