Affordable Care Act
NCQA Policy Team Responds to MACRA Final Rule Release
October 14, 2016 · Matt Brock
Thought you might want to see behind the scenes. The health policy world is abuzz about the Centers for Medicare & Medicaid Services' (CMS) release of  the MACRA final rule this morning.  Our public policy experts continue to analyze the nearly 2,400 pages of the rule. Below is the press release sharing our initial reaction. This is posted on our Web site, but as a matter of convenience, we decided we'd post it here too. It's a little small. Text is below….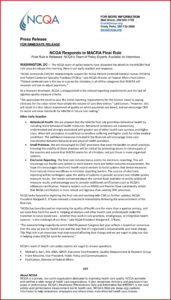 FOR MORE INFORMATION
                                                Matt Brock, 202-955-1739
                                                Cindy Peña, 202-735-3690
Press Release                                                               
FOR IMMEDIATE RELEASE
NCQA Responds to MACRA Final Rule
Final Rule is Released, NCQA's Team of Policy Experts Available for Interviews
WASHINGTON, DC— The NCQA team of policy experts have dissected the details in the MACRA final rule since its release this morning. Here is our early reaction and response.
"NCQA commends CMS for maintaining its support for NCQA Patient-Centered Medical Homes (PCMHs) and Patient-Centered Specialty Practices (PCSPs)," said NCQA Director of Federal Affairs Paul Cotton. "Patient-centered care is the key to success for clinicians in all of the categories that MACRA will measure and use to adjust payments."
As a measure developer, NCQA is disappointed in the relaxed reporting requirements and the lack of rigorous quality measure criteria.
"We appreciate the need to ease the initial reporting requirements for this historic move to paying clinicians for the value rather than simply the volume of care they deliver," said Cotton. "However, this will result in a less robust assessment of quality on which payments are based, and we encourage CMS to revisit and raise standards for MACRA in future rule making."
Other Early Reaction
Behavioral Health. We are pleased that the MACRA final rule prioritizes behavioral health by including more behavioral health measures. Behavioral conditions are substantially undertreated and strongly associated with greater use of other health care services and higher costs. When left untreated, it could lead to needless suffering and higher costs for other medical conditions. The additional measures included in the final rule will encourage more care coordination between behavioral and physical health providers.
Small Practices. We are encouraged by CMS' provisions that ease the burden on small practices. Ensuring the viability of these practices will be critical for protecting access in certain parts of the country and ensure that MACRA works for all clinicians, not just those in more organized systems.
Electronic Reporting. The final rule includes bonus points for electronic reporting. This will encourage our health care system to work toward more and better outcome measurement. We hope this encourages electronic health record vendors to build systems that derive measures from natural clinical workflows to minimize reporting burden. The success of electronic reporting will be contingent upon the ability of systems to provide accurate and reliable quality measure results. We remain concerned about the current tools available to certify validity of measure results and encourage you to consider additional certifications such as NCQA's eMeasure certification. Industry leaders such as HIMSS and Premier have consistently stated that NCQA certification is more robust and rigorous than existing ONC processes.
NCQA looks forward to exploring the final rule and working with CMS on further updates. NCQA President Margaret E. O'Kane released a statement immediately following the announcement of the final rule.
"NCQA has been focused on improving the quality of health care for more than a quarter century, and we know how hard this work is. Helping all doctors and other health care professionals make the transition to value-based care – whether they work in solo practices, small groups, or integrated health systems – is the challenge of our time," said NCQA President Margaret E. O'Kane.
"The overwhelming majority by which MACRA passed Congress last year reflects a bipartisan consensus that the way we pay for health care and the way that it's organized is unsustainable and must change.  This final rule is an important next step toward affecting that change and we are eager to play our role in helping make MACRA work for everyone."
NCQA's team of health care policy experts are eager to answer questions:
Michael S. Barr, MD, MBA, MACP, Executive Vice President, Quality Measurement & Research Group
Frank Micciche, Vice President, Public Policy and Communications
Paul Cotton, Director of Federal Affairs
###
About NCQA
NCQA is a private, non-profit organization dedicated to improving health care quality. NCQA accredits and certifies a wide range of health care organizations. It also recognizes clinicians and practices in key areas of performance. NCQA's Healthcare Effectiveness Data and Information Set (HEDIS®) is the most widely used performance measurement tool in health care. NCQA's Web site (ncqa.org) contains information to help consumers, employers and others make more informed health care choices.