Quality of Care
NCQA Launches New Population Health Management Programs
December 11, 2018 · NCQA Communications
Our mission has always been to improve the quality of health care for all Americans. Toward this end, we are launching two programs that take a more holistic approach to care:
Population Health Program Accreditation, which assesses how an organization applies population health concepts to programs for a defined population, and
Population Health Management Prevalidation, which reviews health IT solutions to determine their ability to support population health management functions.
"The Population Health Management Programs suite moves us into greater alignment with the focus on person-centered population health management," said Margaret E. O'Kane, President, NCQA. "Not only does it add value to existing quality improvement efforts, it also demonstrates an organization's highest level of commitment to improving the quality of care that meets people's needs."
Let's take a look at these programs and their benefits to organizations.
Population Health Program Accreditation
The Population Health Program Accreditation standards provide a framework for organizations to align with evidence-based care and become more efficient and better at managing complex needs. This helps keep their members healthier by controlling risks and preventing unnecessary costs.
The program evaluates organizations in six key areas: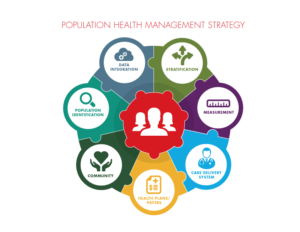 Data integration.
Population assessment.
Population segmentation.
Targeted interventions.
Practitioner support.
Measurement and quality improvement.
Benefits:
Improved, person-centered care. Aligning programs with population health management principles helps improve individualized, person-centered care.
Improved efficiency. Standards are based on industry best Having operations match up to manage a population's health needs will reduce redundant efforts and subsequent waste associated with misaligned goals.
Supports contracting needs. Using the standards to implement effective, targeted population programs helps organizations meet the needs of employers and payers.
Adds value. Achieving PHP Accreditation allows organizations to offer automatic credit for eligible requirements to health plans seeking NCQA Accreditation, reducing administrative efforts.
Population Health Management Prevalidation
Population Health Management Prevalidation looks at health IT systems and identifies functionality that supports or meets NCQA standards for population health management. Prevalidation increases a program's value to NCQA-Accredited organizations and assures current and potential customers that health IT solutions support their goals.
The program evaluates solutions on up to four areas:
Data integration.
Population assessment.
Segmentation
Case management systems.
Benefits:
Provide value-added client benefits. Organizations using health IT solutions that meet NCQA requirements can earn automatic credit toward their NCQA surveys, saving time and easing the administrative burden of providing supporting documentation.
Gain a competitive edge. Advertise direct alignment of health IT functionality with NCQA requirements.
Access industry resources. Enjoy an ongoing collaborative relationship with NCQA and learn frontline details about planned policy changes and enhancements to program requirements.
Receive marketing support. NCQA lists prevalidated vendors on its website.
NCQA is dedicating to assisting in any way we can. Our Population Health Management Resource Guide can also help organizations attain Accreditation or Prevalidation.
You can learn more by visiting our website or keep up to date by following us on Twitter and LinkedIn.