Electronic Health Records
NCQA Addresses Physician Burnout
February 10, 2020 · Jazmyne Carter
I don't know if you know this, but doctor's get tired too.
Have you heard of physician burnout?
Yes, it's a real issue. In fact, more than 40 percent of physicians report being burned out.
Do you know what's the culprit? According to Medscape's 2020 National Physicians & Depression Report , many physicians say they have too many bureaucratic tasks" with "increasing computerization of practice".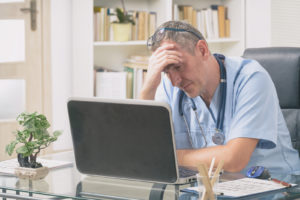 On the positive side, electronic health records (EHRs) are a great thing. EHRs made it possible for healthcare leaders and payers to track a much larger range of quality metrics with this newly codified data.
Unfortunately, more money and time is spent on dealing with reporting on external quality measures. The administrative burden not only contributes to physician burnout but potential harm to patients.
Take a look at how NCQA is working to address the problem.
Creating Digital Measures
HEDIS going digital was all we talked about last year. —because in the 21st century going digital just makes sense. But what does it all mean?
Digital HEDIS measures mean that NCQA writes the measures as computer code so end users don't have to. It makes it easier to read, interpret, and code measures. The digital measures follow industry standards and are consistent. Providers can use the same clinical constructs across the continuum of care to report their results to health plans.
Creating Electrical Clinical Data Systems (ECDS) Reporting
Next, we have ECDS. This is a subset of the NCQA digital measures HEDIS portfolio. It adds clinical data from their source systems. Source systems like EHRs, Health Information Exchanges, registries, case management systems, etc. The clinical data on top of the digital measures gives a more robust report.
Creating Allowable Adjustments
What do you know about Allowable adjustments?
Allowable adjustments were introduced a year ago with the release of HEDIS 2019. They allow a provider organization to use HEDIS for other reasons besides health plan reporting.  Some of those reasons can include guiding clinical interventions and closing care gaps.
Licensing and Certifying Vendors
Sometimes you may hire help for large tasks. Licensed and certified vendors can help. Any vendor selling software or services that use the HEDIS measures must be NCQA Measure Certified. This way physicians can be assured that their certified software can generate accurate and reliable HEDIS results.
NCQA is focused on exploring different ways to reduce the data collection and reporting burden. One way is adopting Fast Healthcare Interoperability Resources (FHIR) standards around data interoperability for HEDIS measures in the future.  Learn more about FHIR in a 4-minute video called Introduction to Digital Measures.
Also, here's a heads up. On August 1, 2021, NCQA is releasing the HEDIS Measures to apply to services in 2022. This is eleven months earlier than the previous HEDIS Measures release cycle. Health plans and providers will have a five-month lead time on what the measures will be.
That was a lot to digest but to put it plainly—physician burnout is a real thing. NCQA wants to help because patients need their providers to be on their p's and q's—not overwhelmed.