Quality of Care
Congress Highlights – Joseph E. Fojtik, MD, FACP, PCMH CCE
December 31, 1999 · Joseph Fojtik
Each year, the PCMH Congress draws hundreds of like-minded people who want to improve health care and help transform the care delivery system into something better, more patient centered and provider friendly. The 2018 congress (in September) was an excellent opportunity for health care professionals, administrators and PCMH Certified Content Experts to meet, network and share ideas.
PCMH Congress: The CCE Perspective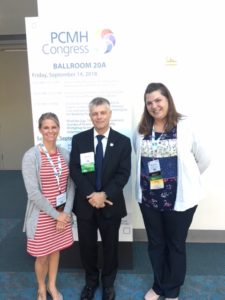 From the CCE perspective, the presentations we experienced gave nuanced and detailed dives into key aspects of a medical home and how to transform a
practice or medical group into the highly functional, advanced primary care practice the PCMH model aspires to be.
My own presentation, The Comprehensive Care Management Process at Mercy Health Systems, discussed the CCM services developed by CMS that allow physicians at a primary care practice to contact and evaluate patients who are not in the office. Having a format and the ability to be paid for calling patients between visits is important to Medicare—and should be to you and to your clients. CCM services can be an alternative clinical encounter and an extremely powerful tool to evaluate the "charts on the rack" when a patient is not in the office.
Some Highlights
I'd also like to give a few highlights from the many, many outstanding presentations—too numerous to list!—as representative examples of the variety of enriching and unique lectures and presentations.
Communication is Key
One of the more complex aspects of primary care is communication between the attending physician and the consulted specialty physician—which should be, and can be, simple. Novant Health representatives Adam Spitz, Michael Hoben and Amber Karol presented, Meet the Specialists – PCSP and PCMH as the Cornerstones of the Medical Neighborhood, an outstanding lecture detailing how they improved and simplified collaboration between specialist, PCMH team and attending physician. PCMH 2017 standards emphasize collaboration, as well. Lessons learned at Novant could help all CCEs explain this process to others.
Practice Transformation
In their presentation, Return on Investment: Show me the Dollars in Value of PCMH, Ashley Ligue, Alvia Siddiqi (Advocate Physicians Partners) and Beth Ann Marootian (Neighborhood Health Plan) described the nuts and bolts of the return on investment in developing a medical home model. Ashley and Alvia gave a compelling story of their efforts to augment the transformation of smaller independent medical groups into PCMH practices, and showed how this led to decreased utilization and reduced costs of care. This, too, could be an excellent addition to the toolkit and help CCEs start a discussion about the cost effectiveness of the medical home model with key stakeholders.
Risk Stratification
I thought Richard Dera's (NewHealth Collaborative) presentation, The Practical and Team-Based Approach to Risk Stratification for the Entire Patient Panel, was the most detailed, convincing model of risk stratification I have seen. Having been involved with developments of predictive modeling, I know this subject is complex and can be confusing. Richard presented clear guidelines on how risk stratification can cross boundaries in a sustainable and teachable manner. The 2017 PCMH standards emphasize that a medical home needs to know its patient population and define what makes patients "complex."
I could give many more examples of excellent presentations, but I'm out of space!
In closing, I'd like to say that this year's congress embodied all that is good in the medical home model.
I've been privileged to be a member of the steering committee for the NCQA PCMH Congress since 2015—we work throughout the year to shape the congress and evaluate speakers, presentations and posters. We truly look forward to serving the PCHM and CCE communities with enriching, pragmatic, enlightening lectures and programs, and this year's presentations were the result of that hard work.
We're already working on the 2019 PCMH Congress; we hope you will join us!