For Employers
How Does Your Health Plan Rate?
February 24, 2020 · NCQA Communications
Did you know that in 2019 NCQA rated over 1,000 health plans based on clinical quality and patient satisfaction, as well as on results from our Health Plan Accreditation Survey?
How did your health plan rate?
The Value of Health Plan Ratings
NCQA's Health Plan Ratings evaluate a broad set of criteria and provide employers and other purchasers with an "apples-to-apples" comparison of current and prospective health plan performance in three categories: consumer satisfaction, prevention and treatment.
Health Plan Ratings tell a story—whether you are reviewing health plan proposals for 2021 or are curious about how your plan's performance stacks up.
Consumer Satisfaction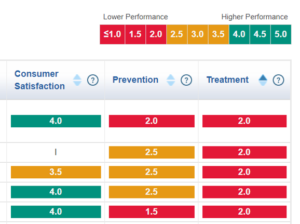 NCQA leverages validated data from the Consumer Assessment of Healthcare Providers and Systems (CAHPS®[1]) survey to determine consumer satisfaction with their health care—whether patients were able to access care quickly and easily, and how they rated their doctor.
How did plans do in 2019? On a scale of 0–5 (0 is lowest):
Only 6 commercial plans earned a rating of 5.
20 commercial plans earned a rating of 1.0 or 1.5.
Prevention and Treatment
Also scored on a 5-point scale, the prevention and treatment categories leverage measures from the Healthcare Effectiveness Data and Information Set (HEDIS®[2]) to demonstrate how well plans provide screenings, immunizations and other preventive services, as well as appropriate treatment for chronic and acute conditions.
In 2019…
Only 4 commercial plans earned a rating of 5 for prevention. None earned a 5 for treatment.
60 commercial plans earned a rating of 2 or lower for prevention; 30 plans earned similar scores on treatment quality.
How did your health plan rate?
Sign up for our employer newsletter to stay informed of how to drive health care quality.
CAHPS® is a registered trademark of the Agency for Healthcare Research and Quality (AHRQ).
HEDIS® is a registered trademark of the National Committee for Quality Assurance (NCQA).