Delivering Better Care
Health Care Hot Topics – Spreading the News
January 28, 2016 · NCQA Communications
Just before Washington was buried under two feet of snow, NCQA brought a group of journalists together for a discussion on health care.  We covered a range of issues: merit-based performance versus fee-for-service payment models, high-deductible health plans, measuring behavioral health — and other hot topics.
Health Care is Very Much a Hot Topic!
NCQA, adhering to the pillars of health quality (accountability, measurement and transparency), is also committed to ensuring the public understands the health system in ways that relate to them.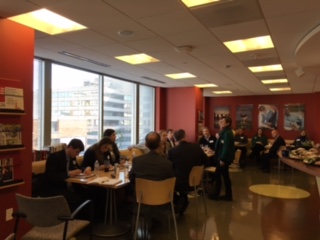 Hence our media briefing…an opportunity to share new, consumer-oriented information and to pique reporters' interest in areas where NCQA is leading the way:
Redesigned Recognition Programs. NCQA is restructuring its PCMH Recognition Program; streamlining the recognition process and adding more virtual interaction.
State Innovation Models (SIM) Program. NCQA is working with states to help plan and test new, innovative models for health care delivery and payment.
Medicare Access and CHIP Reauthorization Act (MACRA). NCQA's white paper proposes principles to help fill gaps and create a more uniform system for optimal value-based payment.
Discussions covered those areas and more as reporters took advantage of having the NCQA "brainpower" in one place at one time.
Thank you to the Los Angeles Times/Tribune Washington Bureau, The Hill, Congressional Quarterly HealthBeat, Frontline Medical News, Bloomberg BNA, First Report Managed Care and others who braved the Washington "Pre-Snowmaggedon" cold to attend our briefing.  For those who couldn't join us, 2016 is still young and we will definitely host another briefing, as there are so many hot topics in the evolving (and complicated) state of health care.