Health Plan Accreditation
Health care Quality Congress 2019
October 10, 2019 · Jazmyne Carter
Dallas delivered a quality time.
NCQA's Director of HEDIS Policy Cindy Ottone framed it from the podium. The Health Care Quality Congress is a HEDIS-geek safe zone.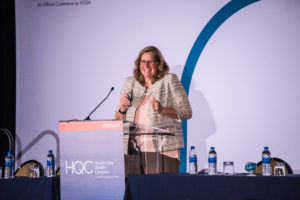 There were more than a few "HEDIS Geeks", along with quality improvement health plan executives, doctors, nurses and countless other occupations represented in the crowd. They were quality true-believers and it showed. Participants and presenters from across the country gathered at the enormous Sheraton Dallas to talk all things HEDIS, Health Plan Accreditation (HPA) and quality improvement. They also took the opportunity to network and share best practices.
ICYMI, …. in case you missed it (The Congress), here are some highlights.
Health Plan Accreditation Updates
As you've heard before, HPA 2020 is changing for the better. Tricia Barrett, Vice President, Product Design & Support, NCQA gave a rundown of the updates:
Align Health Plan Accreditation and Health Plan Ratings.
Simplify scoring and score by product line.
Add Must Pass Elements to Credentialing and Utilizations Management to help ensure accuracy and timeliness.
Reduce paperwork.
Improve the experience.
The goal of all these updates is to improve evaluation and transparency, to focus on implementation and outcomes, while reducing administrative burden.
Innovation and Health Care Improvement
The Congress also demonstrated NCQA is all about innovation. Keynote David Asch, MD, of the Penn Medicine Center for Health Care Innovation, encouraged the morning crowd to consider and design new approaches to care.  He explained how human behavior is a health care quality improvement tool. The traditional approach is to inform patients and hope the information helps them make good decisions. Dr. Asch encourages the use of social and financial incentives to incentivize good decisions.
NCQA Innovation Winners
Speaking of innovation, NCQA celebrates and recognizes health plans for implementing leading edge strategies that improve both quality and value. Congratulations:
Kaiser Permanente Northern California won the NCQA Innovation Award for project, "No Place Like Home: Surgical Home Recovery". WellCare Health Plan won the award for its project "Leveraging Disparities Data to Impact Member Behavior and Provider Practice Patterns". Lastly, Arnot Health Arnot Ogden Medical Center won NCQA Innovation Award Honorable Mention for its quality improvement project, "Transition to Home."
This page has all the details about the winners, their projects and successes.
Person-Centered Outcomes
One size does not fit all. "People with complex needs have goals and preferences that are anything but homogeneous, and they appreciate being asked what matters most to them." -NCQA Jessica Briefer French, MHSA
NCQA developed and piloted an approach to quality measurement focused on goals set by the individual: Person-Centered Outcomes."—sponsored by the John A. Hartford Foundation and the SCAN Foundation Jessica delivered updates on her person-centered outcomes research and demonstration.
Thanks again to all who joined us at Health Care Quality Congress 2020. Be sure to save the date for Health Care Quality Congress 2020, September 23-26 in Dallas again. See you next year!