Quality of Care
Patient-Engagement Strategy: Health Coaches
March 8, 2016 · Amy Maciejowski
Mott Blair is a convert. Before he hired a health coach two years ago, Blair—a family physician in Wallace, North Carolina—saw that his patients with diabetes often struggled to manage their diet and blood sugar between appointments. Many of them failed to check in with the office at all.
Today, Blair uses an electronic health record (EHR) system to identify patients who may experience these types of challenges and then introduces them to his health coach during exams. His health coach then spends up to an hour with them initially, clarifying instructions and answering  questions.  The  coach also invites patients to break-out sessions to help them learn about their disease, navigate the complex health care system and set goals to promote positive behavior changes.
The health coach has been "a phenomenal success," says Blair. "Under the old care-delivery model, you'd give patients a prescription, and maybe set them up with counseling, and they'd disappear for three months until their next appointment. With a health coach, we're able to work with them more closely and reinforce concepts about diabetes."
How Will Your Patient React?
To obtain buy-in from chronically ill patients, Blair says that his primary care practice, a National Committee for Quality Assurance (NCQA) Recognized Patient-Centered Medical Home (PCMH),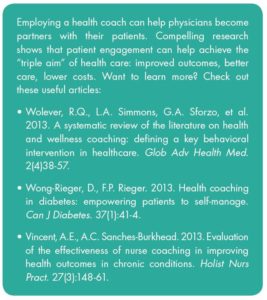 uses screening tools to assess their motivation or readiness to self-manage. The assessment helps the provider team define incremental, attainable goals and sets up patients for success.
That's good practice, according to the National Center for Health Promotion and Disease Prevention (NCHPDP) Pocket Guide to Patient Healthcare Communication, which recommends that clinicians match their approach to the patient's stage of readiness.
Smokers who become angry during a screening for tobacco use, for example, send a clear signal that they have no intent to quit—at least not in the near term. NCHPDP suggests that clinicians encourage them to consider the benefits they get from their current behavior, rather than focusing exclusively on the downside.
Patients who ask questions or request educational materials, for example, may be contemplating behavior change. You can encourage this by reinforcing the benefits of better health. From there, the NCHPDP says that clinicians can offer tools to help patients move toward positive change, clarify next steps and develop a plan.
Successful patient engagement often means individualizing care and communication. That's where a health coach can have a big influence. Engagement is "…one of the most critical aspects that will determine success," says Cari Miller, director of Health Care Transformation Services and Program Operations for the New Jersey Academy of Family Physicians. "Practices really need to find out what is going to work best for each patient."