Quality of Care
Direct Primary Care and Employers: Breaking it Down
April 24, 2019 · Matt Brock
There's been a lot of buzz about direct primary care and how employers can use it.
Unlike fee-for-service primary care, direct primary care offers patients improved access to primary care physicians: an office visit can last an hour or more, and patients can phone or text clinicians.
Of course, direct primary care generally means more money upfront for employers, with the expectation that they will spend less downstream because there will be fewer complex and resource-intensive services such as specialists, imaging and surgeries.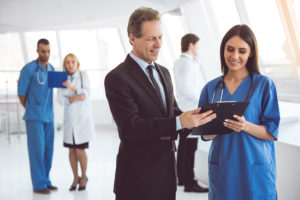 The goal of direct primary care is to serve as a medical "home" that truly manages all the patients' health care needs.
For employers, the idea of a primary care "home" that manages employees' overall care and chronic conditions is appealing—but there remains the question as to whether the physicians involved in direct primary care are high quality providers.
Employers need to understand exactly how these providers are selected to participate in this direct primary care model. 
Key Questions Employers Should Ask 
There are three essential questions employers should ask when speaking with companies that offer direct primary care:
What criteria does the company use to select practices that participate in a direct primary care model?
Does the company require practices to meet standards of quality?
What evaluation does the company conduct to ensure practices provide evidence-based care to employees?
Another Worthwhile Check
Employers should also consider whether practices that participate in a direct primary care model meet NCQA's patient-centered medical home standards.
NCQA's Patient-Centered Medical Home (PCMH) program recognizes medical practices that invest in a model of care that puts patients at the forefront and where continuous quality improvement is a priority. For employers, understanding PCMH Recognition and how it helps identify and recognize quality is important to ensure employees receive quality care.
Learn more about NCQA programs that can help employers ensure their employees receive quality health care.