Health Care Research
Proceed with Caution When it Comes to CT Scans
January 25, 2016 · Amy Maciejowski

Low back pain affects three-quarters of all adults at some point. It is one of the most common reasons for seeking health care services—but it can also lead to one of the most misused forms of discovery: diagnostic imaging.
Diagnostic imaging, such as X-rays, MRIs and CT scans, are often used to aid diagnosis and help patients avoid exploratory surgery. That's a good thing, right? Maybe, and maybe not. CT scans are used lavishly—a recent Kaiser Health News (KHN) article states that doctors no longer use them only when necessary. Researchers at the University of California, found that many people receive CT scans to check out injuries that don't appear to be serious. Each CT scan exposes a patient to radiation, and so this ubiquitous diagnostic tool presents its own risks.
One CT scan contains about 10 millisieverts (mSv) of radiation, which equates to roughly 200 chest X-rays or 1,500 dental X-rays. CT scans' ionizing radiation can damage DNA and cause cancer.
Scan overuse led to many national campaigns like Image Wisely, Image Gently and Choosing Wisely, which seek to educate patients and doctors about unnecessary tests, such as CT scans for headaches or back pain.
At NCQA, we recognize the risks involved in using CT scans too much and too often. In fact, our HEDIS measure, Use of Imaging Studies for Low Back Pain, addresses it specifically. Through awareness—and measurement—of the abundancy of diagnostic imaging, health plans can identify problems and improve performance.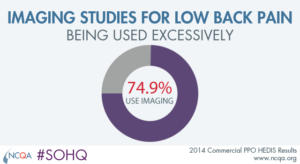 Our 2015 State of Healthcare Quality Report found that almost 75 percent of adults 18–50 years of age in commercial PPO plans did not have an imaging study (plain X-ray, MRI or CT scan) after a diagnosis. That's great, but it means 25 percent received imaging studies that might have been unnecessary.
A patient facing multiple CT scans was quoted in the KHN article as saying, "I'm learning to ask a lot more questions." So should we all! Patients and doctors should make it a priority to ask questions, especially when a practice or service is just "how it's done." Asking questions is how we'll make 75 percent into 100 percent. We can all avoid unnecessary CT scans—we just need to ask that first "Why?"