Quality of Care
NCQA Recognizes 2018–2019 PCMH CCE Quality Award Honorees
December 31, 2014 · Tammy Donnelly
Amanda Ciadella, MPH, PCMH CCE, and Leigh Reddick, PCMH CCE, are the recipients of NCQA's 2018–2019 PCMH-CCE Quality Award. Margaret E. O'Kane, NCQA President, presented the award at the annual appreciation lunch during this year's PCMH Congress in San Diego, California.
Recognizing Outstanding Work
The two awardees—Amanda Ciadella, PCMH Senior Consultant at The Verden Group/Patient Centered Solutions, and Leigh Reddick, Director of Community Quality Programs at Palmetto Health—have performed as outstanding leaders within the CCE community. They were chosen from a field of almost 100 nominees, all who demonstrated:
Significant contributions toward practice transformation, resulting in a practice or practices achieving NCQA PCMH Recognition.
In-depth knowledge, experience and performance with NCQA PCMH program standards, guidelines, documentation and the Recognition process.
Performance as a positive, goal-oriented team player, coach and advocate.
Needless to say, the selection process was difficult! We congratulate Amanda and Leigh on their accomplishments, and we thank the many practices that responded to NCQA's request for nominations.
Look for more on Amanda and Leigh's work in upcoming CCE Quarterly Webinars and in the PCMH CCE Digital Community.
Meet Our CCE Quality Award Honorees
Amanda joined The Verden Group in 2017 as Senior Consultant, with a focus on the Florida Chapter of the American Academy of Pediatrics statewide PCMH project, where she has supported over 27 practices with their PCMH goals. Her combined background in health administration and her recent work in population health management bring a wealth of knowledge and expertise to her clients. Amanda's education in health care began with a BA in health administration and an MPH from the University of West Florida. Amanda was also Office Manager in a pediatrics practice in Crystal River, Florida, where she participated in the Blue Cross Blue Shield Florida pilot PCMH program and helped the practice earn NCQA Recognition. Dedicated to expanding her knowledge of PCMH and helping clients navigate the path to NCQA Recognition, Amanda has been a PCMH CCE since 2014 and has supported practices under the PCMH 2011, 2014 and 2017 standards.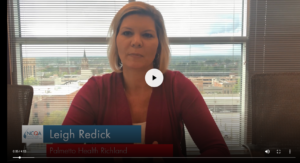 Leigh has a BS in Human Services from the University of South Carolina, and earned PCMH Content Expert Certification in 2013. In her 5 years as Director of Community Quality Programs at Palmetto Health Columbia, Palmetto Health has embraced the PCMH experience. The Palmetto Health Quality Collaborative practice includes primary care offices (PCMH Level 3), specialty offices and a connected care office. Palmetto Heart was the first specialty practice in the state of South Carolina to be recognized as a Patient-Centered Specialty Practice (2015). The Palmetto Health Infusion Center was honored as the first infusion center in the United States to earn Patient-Centered Connected Care Recognition (2016). Leigh continues to provide guidance and support as offices are transformed and "live" the patient-centered process. Maintaining steady, improved results has led to better quality, better revenues and overall better patient care at Palmetto Health.