HEDIS
Blood Pressure: HEDIS Results During COVID
November 30, 2021 · NCQA Communications
Control of high blood pressure reached 2-year lows for enrollees in commercial, Medicaid and Medicare health plans in 2020, NCQA leaders announced during Episode 10 of our "Future of HEDIS" webinar series.
The Controlling High Blood Pressure measure was one of seven HEDIS measures presented by Sarah Shih, NCQA Assistant Vice President for Research and Analysis.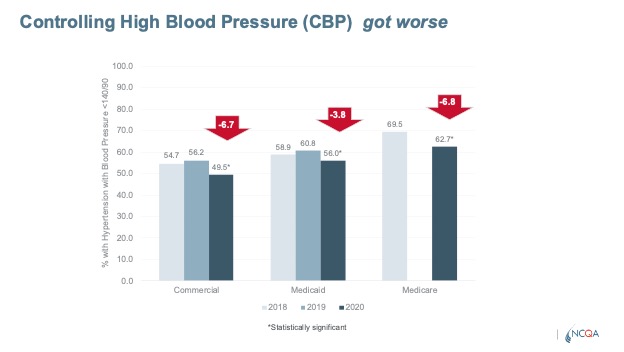 What Happened?
The bar graph above shows statistically significant performance drops in the Controlling High Blood Pressure measure. Fewer people in commercial, Medicaid and Medicare plans had their blood pressure under control in 2020—the first year of the pandemic—than in 2018.
NCQA updated HEDIS reporting policies in response to the pandemic; for example, to meet our Controlling High Blood Pressure measure, patients' blood pressure may now be taken with a remote monitoring blood pressure cuff or in a physician's office.
Why This Measure Matters
Almost half of American adults have high blood pressure. Controlling it reduces the risk of heart disease and stroke, two leading causes of death.
Closure of gyms and other places where people exercise may have made it harder for many people to manage their blood pressure during the pandemic. In addition, restrictions on in-person doctor visits have been a barrier to care.
But controlling high blood pressure has taken on new importance: Hypertension increases the risk of severe COVID infection and complications.
What Can Be Done?
Health plans can help enrollees control their blood pressure during the pandemic by:
Updating remote-access policies. Relax requirements that people renew prescriptions in person, or allow 90-day prescriptions rather than the standard 30-day limit.
Offering remote monitoring equipment. Give members remote monitoring cuffs and user-friendly instructions for using them.
Teach patients creative ways to exercise and manage their diet. Use video or printed materials to teach members how to stay active at home and eat right. The Blood Pressure Improvement Program, developed by the American Medical Association and American Heart Association, is an example.
Giving vulnerable populations extra help. Complex patients, economically disadvantaged enrollees and those who don't speak English may need special help. Consider expanding telephone support to include languages spoken in the enrollee population and offering health educators to enrollees who need them.
The Blood Pressure Bottom Line
Our Controlling High Blood Pressure measure:
Is perennially important.
Had troubling, statistically significant declines across all product lines in the first year of the pandemic.
Will be one of the first HEDIS measures whose performance we assess for measurement year 2021.
To see these and other HEDIS MY 2020 results, see our Future of HEDIS webinar series. Scroll to Webinar Archives and select Episode 10: HEDIS During and After COVID.