Quality of Care
A Chart That Charts the Way: Medical Homes and Behavioral Health
April 12, 2016 · Amy Maciejowski
Recently, NCQA worked with the Massachusetts Health Policy Commission to add a certification—PCMH PRIME—for patient-centered medical homes (PCMH) that focus on certain behavioral health standards. NCQA fully supports integration of behavioral healthcare into primary care.

Even More Evidence
Now, data from the 2013 Commonwealth Fund International Health Policy Survey backs our efforts. Reanalysis of that survey indicates that the PCMH model appears to be associated with improved care for adults with mental health issues.
The annual survey examines how difficult it is for adults with mental health issues to access care and to receive coordinated care. The percentage of people who report care problems decreases for those who have a medical home.
The chart below speaks for itself.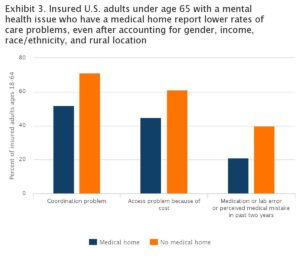 Source: The Commonwealth Fund.
Promising News, Now To Address the Problem
This is promising news! Now that we have evidence of what works, it's time to address a problem: fewer than half of insured, nonelderly adults have a medical home, according to the survey.[1] With the proven success of the medical home model in enhancing care coordination and access for mental health issues, it's time for more practices to follow suit. More practices transforming into medical homes will result in improved care for their patients.
[1]The researchers defined respondents as having a medical home if they responded yes to all of the following: has a regular doctor/place of care; was able to get an appointment the same/next day last time needed care and/or regular place of care always/often calls back the same day to answer question; regular doctor/place of care always/often knows important information about medical history; regular practice always/often helps coordinate and arrange the care received from other doctors/places.