Quality of Care
Annual Report: The Story of NCQA's Work
June 19, 2017 · Matt Brock
If you visit our interactive annual report, you'll see why we embrace the future of health care and our own role in it.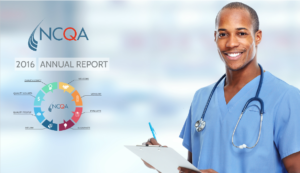 While the health care landscape continues to evolve and the future often seems uncertain, this report—and the stories of real people working on the front lines—tell us, our mission, our staff and our partners stand strong and ever optimistic. We can improve.
Measure. Evaluate. Illuminate. Inform.
Measure, Evaluate, Illuminate, Inform. We shape the body of our work into these four categories. we again highlight our impact on health care; working with states to create innovations in behavioral health, exploring better ways to measure data electronically, and improving care and quality of life for the most vulnerable among us.
We launched new NCQA accreditation and distinction programs for organizations that provide care and support for the frail elderly and disabled. These services help millions of Americans live more independent lives by allowing them to remain in their preferred setting—often, their home and community. Accreditation and distinction encourage these programs to improve the quality of their care and to treat these already vulnerable individuals as partners in planning their care. In these programs, and many others, we look to use new measures built upon patient-reported outcomes.
We also continue to see growth in NCQA's Patient-Centered Medical Home (PCMH) Recognition program. That growth signals greater movement toward a model of care in which patients receive the right care, in the right amount, at the right time. Notably, we also see this model of care picking up support at specialty practices and non-primary care clinics.
Annual Report: Quality's Story
This report shows you the concepts that fuel all our work—our research, our HEDIS® measurement design and even our public policy outreach. You will see the promise of progress in these pages. Our pursuit of better care remains strong and ever-optimistic.
HEDIS® is a registered trademark of the National Committee for Quality Assurance (NCQA).