25 Years Of Quality
2013: Lives covered by health plans that report quality results total 171 million
December 22, 2015 · NCQA Communications
25 for 25: A series of 25 blog posts marking NCQA's 25th Anniversary.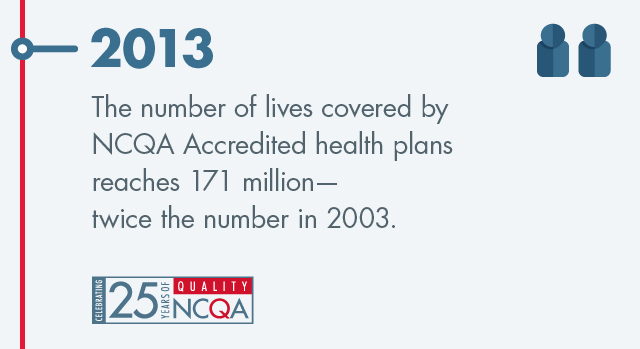 NCQA achieved an important milestone in 2013, when the number of lives covered by HEDIS-reporting health plans reached 171 million, double the total of 10 years earlier.
In 2013, HEDIS (the Healthcare Effectiveness Data and Information Set) data came from a record number of health plans: 814 HMOs and 353 PPOs, representing 54 percent of the U.S. population.
This growth was significant because it demonstrated health plan and clinician commitment to improving health care. But the increase also meant that consumers, payers, clinicians, employers and health plans were gaining more insight into the quality of U.S. health care than ever before.
HEDIS was then—and remains today—a crucial catalyst in high-value care because it evaluates clinical issues that matter to patients, payers and clinicians.
Clinicians use HEDIS to compare their performance with that of their local and national peers, ultimately driving a national effort for better care.