25 Years Of Quality
2013: 4 Out of 5 Health Plans Have NCQA Accreditation in Marketplaces
December 18, 2015 · NCQA
25 for 25: A series of 25 blog posts marking NCQA's 25th Anniversary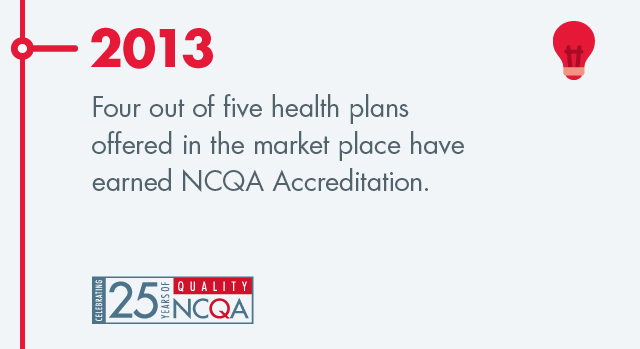 A year after the Centers for Medicare and Medicaid Services (CMS) named NCQA as an approved health plan accreditor, a number of plans began to pursue NCQA Health Plan Accreditation. Nearly 60 unaccredited plans chose to earn NCQA Accreditation to quality for a spot in the marketplace.
All before marketplaces even opened.
On day 1 of the marketplace era, almost 85 percent of the health plans on offer—four out of five—were accredited by NCQA. Millions of previously uninsured Americans gained access to high-quality health care.
"The overwhelming preference for NCQA Accreditation is a gratifying reminder that NCQA is the gold standard," said NCQA President Margaret E. O'Kane.
Consumers will notice the NCQA seal when they log onto the marketplace. To earn accreditation—and the NCQA seal—plans undergo a rigorous review of their operations. The review also determines whether they have strong processes for care coordination and communication. Consumers can be sure that choosing an NCQA-Accredited health plan means picking the best quality care.
Four out of five. Pretty good odds for finding quality care. But, there's always room to do better.