25 Years Of Quality
2012: NCQA launches Case Management Accreditation, to Evaluate Care Coordination
December 16, 2015 · NCQA
25 for 25: A series of 25 blog posts marking NCQA's 25th Anniversary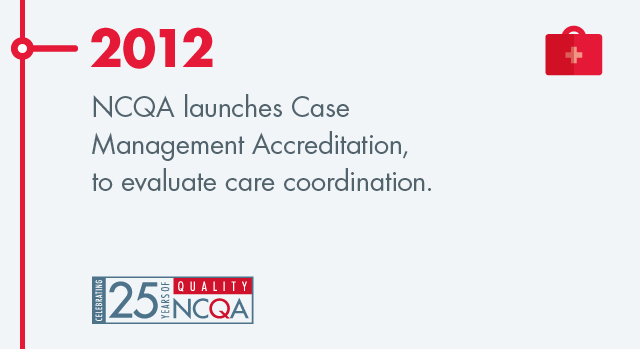 In an era when care coordination—organizing care activities between patients and their providers—was a mystery, NCQA released its Case Management (CM) Accreditation program on July 30, 2012.
Designed for case management programs in provider, payer, disease management vendors or community-based organizations, NCQA's CM Accreditation makes certain that patients with complex conditions receive effective, coordinated personalized services that lead to improved health outcomes.
Three organizations were the first to seek NCQA Accreditation: Alere (www.alere.com), Monroe Plan for Medical Care (www.monroeplan.com) and OptumHealth Care Solutions (www.optumhealth.com).
NCQA's Case Management Accreditation remains a comprehensive, evidence-based program dedicated to improving care coordination. It is the only program that confirms whether an organization has the right processes in place to ensure safe transition between health care settings.