25 Years Of Quality
2010 NCQA Promotes Health Insurance Rankings in Consumer Reports
December 7, 2015 · NCQA
25 for 25: A series of 25 blog posts marking NCQA's 25th anniversary.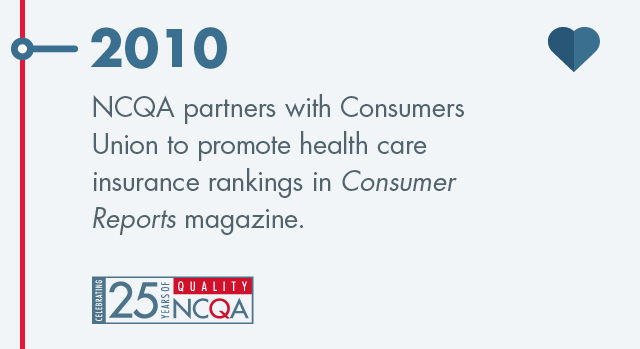 2010 marked the first year of a partnership between NCQA and Consumer Reports to publish the NCQA Health Plan Rankings.
The partnership was a natural fit: Consumer Reports empowers people with the knowledge they need to make informed choices; NCQA's health plan rankings encouraged informed choices by letting people compare health plan performance.
NCQA began releasing the rankings in 2005, publishing them in U.S. News and World Report. In 2010, NCQA partnered with Consumer Reports, publishing the rankings and adding supplemental analysis and help on explaining quality measurement to the consumer audience.
During NCQA's five-year partnership with Consumer Reports, more than seven million people had access to the rankings each year.
In 2015, NCQA went from health plan "rankings" to health plan "ratings" of more than 1,000 plans based on performance and quality of care. Ratings gave consumers a more accurate picture of how health insurance plans perform in key quality areas: consumer satisfaction, prevention and treatment.