25 Years Of Quality
2009: 1,000 Plans Report HEDIS®
November 23, 2015 · NCQA
25 for 25: A series of 25 blog posts marking NCQA's 25th Anniversary.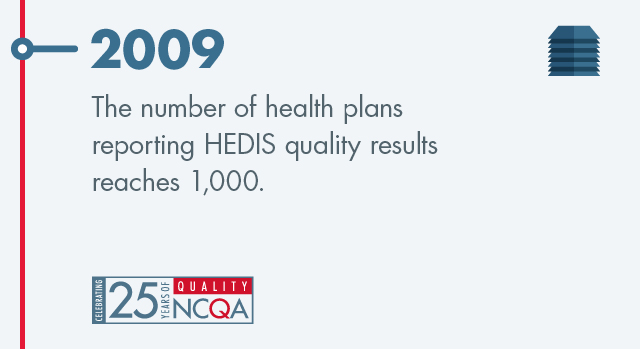 Few people may remember, but HEDIS didn't originate with NCQA. In the late 1980s, a group of large employers and leading health plans came together to develop a system of measures that would help simplify the task of measuring and reporting on quality. The measure set was used lightly at first. Then, in 1991, NCQA took over responsibility for managing HEDIS and it quickly became the de facto performance measurement set for the managed care industry. Its use has grown dramatically ever since.
The "1,000 plan" mark is a testament both to NCQA's dedication to making HEDIS as useful and practical as possible, but also to the health care industry's commitment to accountability and transparency. Today, more than 1,150 health plans submit HEDIS data to NCQA annually.